Ministries
St. Barnabas' Diapers, Etc.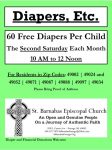 Our "signature" outreach ministry is our diaper program, which we began in March 2015. This growing ministry provides free diapers to families in need in south Kalamazoo county. (See our Diapers, Etc. flyer elsewhere on our website.) In 2019 we provided over 44,000 diapers!
Diapers, Etc. is currently open on the second Saturday of the month from 10 AM to 12 Noon at St. Barnabas Episcopal Church. No appointment is needed.
This ministry is mostly funded through grants, but we also rely on the generosity of our parishioners and members of the greater community. Those wishing to donate to this ministry may do so through St. Barnabas Episcopal Church with a clear indication on the donation that it is for "Diapers, Etc.".
Although all donations are appreciated and immediately given to the community, we ask that you call the church (269.327.7878) to schedule delivering material donations rather than bringing them to diaper distribution days. Further, as we have access to wholesale pricing and other reduced-cost options, your donation can be used most efficiently if it is given as money rather than as a material donation.
Justice Ministries
ISAAC Supporter — St. Barnabas supports the work of ISAAC, the Interfaith Strategy for Advocacy and Action in the Community.  ISAAC does local advocacy work in many different areas each year, including Affordable Housing, Anti-racism, Gun Violence, Immigration Reform, and Early Childhood Education, to name a few.
Believe Out Loud — As a Believe Out Loud(TM) parish, we are committed to being a welcoming place for Lesbian, Gay, Bisexual, Transgender, Queer, Intersex, and Asexual people and the friends and family of the LGBTQIA+ community to safely and authentically be who God has made us all to be. Wherever you are in your spiritual journey, all are welcome at God's table.

Others: St. Barnabas also supports other area agencies through regular outreach open plate offerings, including Twelve Baskets. Open Doors-Kalamazoo, Warm Kids, and Episcopal Relief & Development.