Diapers, Etc.
Diapers, Etc.
St. Barnabas' Diapers, Etc.
One of the ways we share the love of God that we enjoy with the community around us is by giving diapers to babies in need, free of charge. Diapers, Etc. is currently open on each second Saturday of the month from 10 AM to 12 Noon at St. Barnabas Episcopal Church (see below) providing TWO WEEKS of free diapers (60 diapers of your child's size)!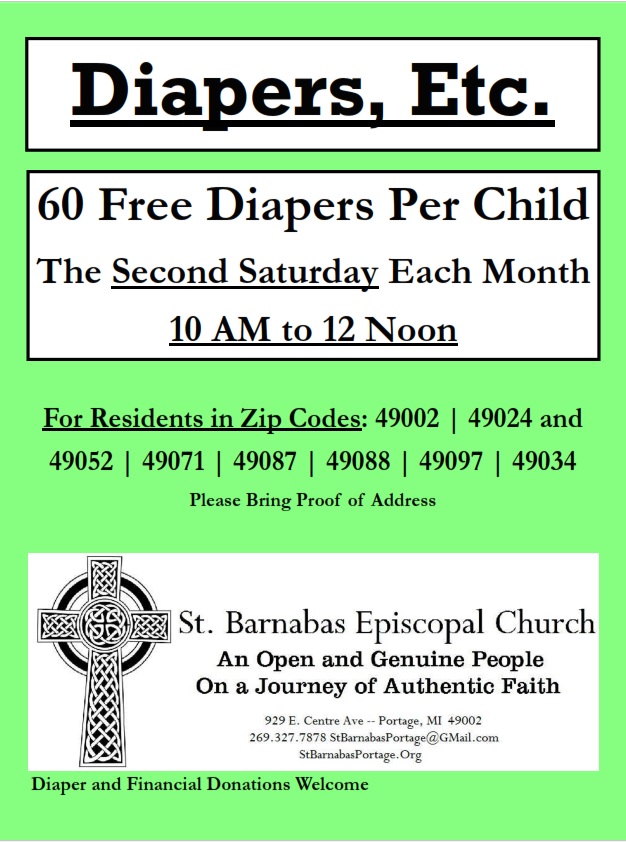 Those wishing to donate to this ministry may do so through St. Barnabas Episcopal Church with a clear indication on the donation that it is for "Diapers, Etc.". Although all donations are appreciated and immediately given to the community, we ask that you call the church (269.327.7878) to schedule delivering material donations rather than bringing them to diaper distribution days. Further, as we have access to wholesale pricing and other reduced-cost options, your donation can be used most efficiently if it is given as money rather than as a material donation.