Ministries
As we have vowed in our Baptismal Covenant with God and each other, we follow this path:
Proclaiming the Good News (and learning about it)
Sunday Homily — Our priest provides a dynamic homily whenever we meet for Eucharist. When we meet for Morning Prayer, a licensed lay preacher provides an engaging and thoughtful way to connect the Scriptures from the day to our everyday lives.
Seek and Serve Christ in all Persons
St. Barnabas' Diapers, Etc. — This growing ministry provides free diapers to families in need in south Kalamazoo county. This is a real and tangible need in our community that we are called to work on and have been very blessed to help families in this way since March of 2015.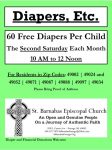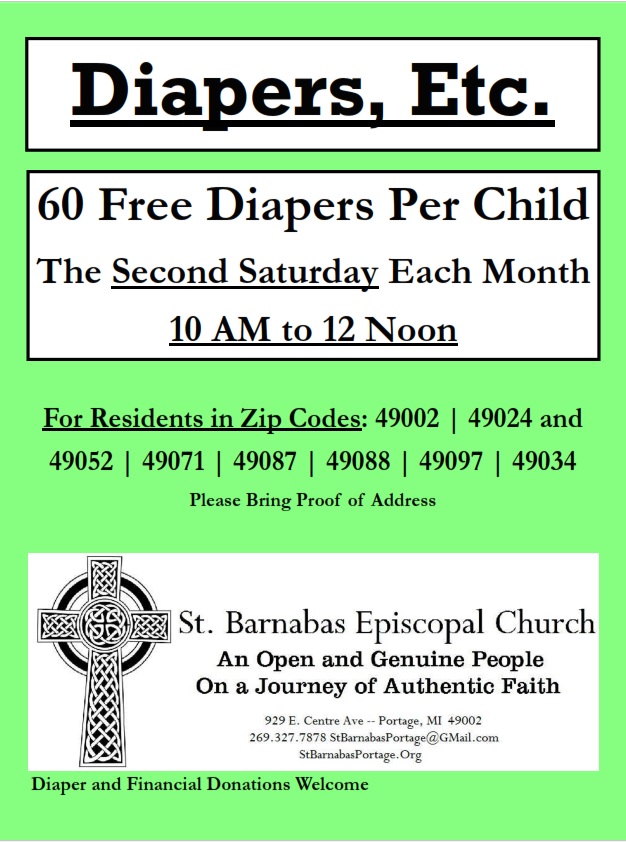 Strive for Justice and Peace
ISAAC Supporter — St. Barnabas supports the work of ISAAC, the Interfaith Strategy for Advocacy and Action in the Community.
Respect the Dignity of Every Human Being
Home Communion — There are members of our congregation who are home bound or for medical or disability reasons unable to travel to church for our Sunday worship. Our Lay Eucharistic Visitors act as an extension of our Sunday service by taking the consecrated elements of bread and wine from our Sunday worship and share them with these important members of our community
Columbarium — Joining us in all activities of the church are the cremains of those interred in the columbarium located in the Narthex (gathering area) to the Sanctuary. We believe in the communion of Saints, the community of those who have gone before and those who are alive now, and therefore it is we who are blessed by having the earthly remains of our loved ones joining our community when we gather. Please contact the church for more information about a niche.
Believe Out Loud — As a Believe Out Loud(TM) parish, we are committed to being a welcoming place for Lesbian, Gay, Bisexual, Transgender, Queer, Intersex, and Asexual people and the friends and family of the LGBTQIA+ community to safely and authentically be who God has made us all to be. Wherever you are in your spiritual journey, all are welcome at God's table.